Q&A with Eleazar Ruiz
We need to showcase God's creativity by using arts to love our neighbor and edify each other.
Eleazar Ruiz has been designing, writing, and creating for the local church in various mediums his entire life. Eleazar grew up in a creative and theatrical home in the Dominican Republic and moved to the U.S. in 2009. He and his wife Bekah live in the Portland, Oregon area. Along with his brother, R0mmel, they founded Patrol, a team of storytellers and artists producing books which tell fiction and non-fiction stories inspired by the Bible. 
This summer Eleazar transitioned into his new role as the Creative Director at Humble Beast. We got a chance to talk to Eleazar about the role of creativity in the church and Patrol's latest project, The Gospel In Color. 
Q: What has your experience been as a creative in the church? 
Eleazar: "Church is difficult whether you're an artist or not. The struggle is very generic within the artist community: 'My church doesn't appreciate creativity', 'My church doesn't see this as valuable'. If art is seen as valuable, it only is in the sense of marketing but not really in doxology as a way of worship or engaging with God. Arts are usually used as a way to reach out but not as a way to bring people together to pray, worship, meditate, have devotionals. 
Big churches especially have been really good at using the arts as a way of marketing and reaching out. I think unfortunately we can see churches take branding in an unhealthy way. We want to make a church like Starbucks where wherever you go, you get the same experience. You start ignoring context and the people you're serving. Branding at that point starts to have incredible damage to how the church worships, communicates, talks, and experiences God. 
I don't think the church is at a place where we're using art as a way to edify the body inside. I'm saying that in exception to singing and worship. That's the only avenue for which an artist can engage the congregation to edify the Body of Christ. If a graphic designer, painter, sewer wanted to find a way to do that, it would be very hard to find an avenue in which they can."
Q: Why is creativity in the church important?
Eleazar: "God is creative. If we're missing that aspect of Him, then we're not fully capturing His image into the world. Why is creativity important? Simply because God is creative. God made it good. He used it to create us in His own image. Imagine a painter painting, and they're looking at a tree and painting that tree. They're going back and forth between that tree and a canvas, a canvas and the tree. Basically God was looking at Himself when He was creating us. Looking at Himself, looking at the canvas, and making us in His image. When we only focus on some areas of God's nature, and we don't display all of it, we are missing something. Sometimes because the church has a mission, which is to make disciples of all nations, and we're all about that mission, while we're doing that, we forget there's more to being a church. We also need to reflect God's love. We need to showcase God's creativity by using arts to love our neighbor and edify each other."
Why is creativity important? Simply because God is creative. God made it good.
Q: What is the mission of Patrol? 
Eleazar: "We're trying to simply use imagination, story telling, and illustration as a way to engage theology. We know there's a small group of people who want to engage the Word like that, who want to engage the Word with a fiction story like Jesus did with metaphors and parables. There's a reason why Jesus did it. We're trying to bridge that gap between understanding and the world we live in. We're trying to use story telling to communicate kingdom truth because kingdom truth can often be complicated. That kingdom is not here yet. Instead of writing an academic paper we want to paint a picture that hasn't been painted before. We want people to consume that type of content and be edified and transformed."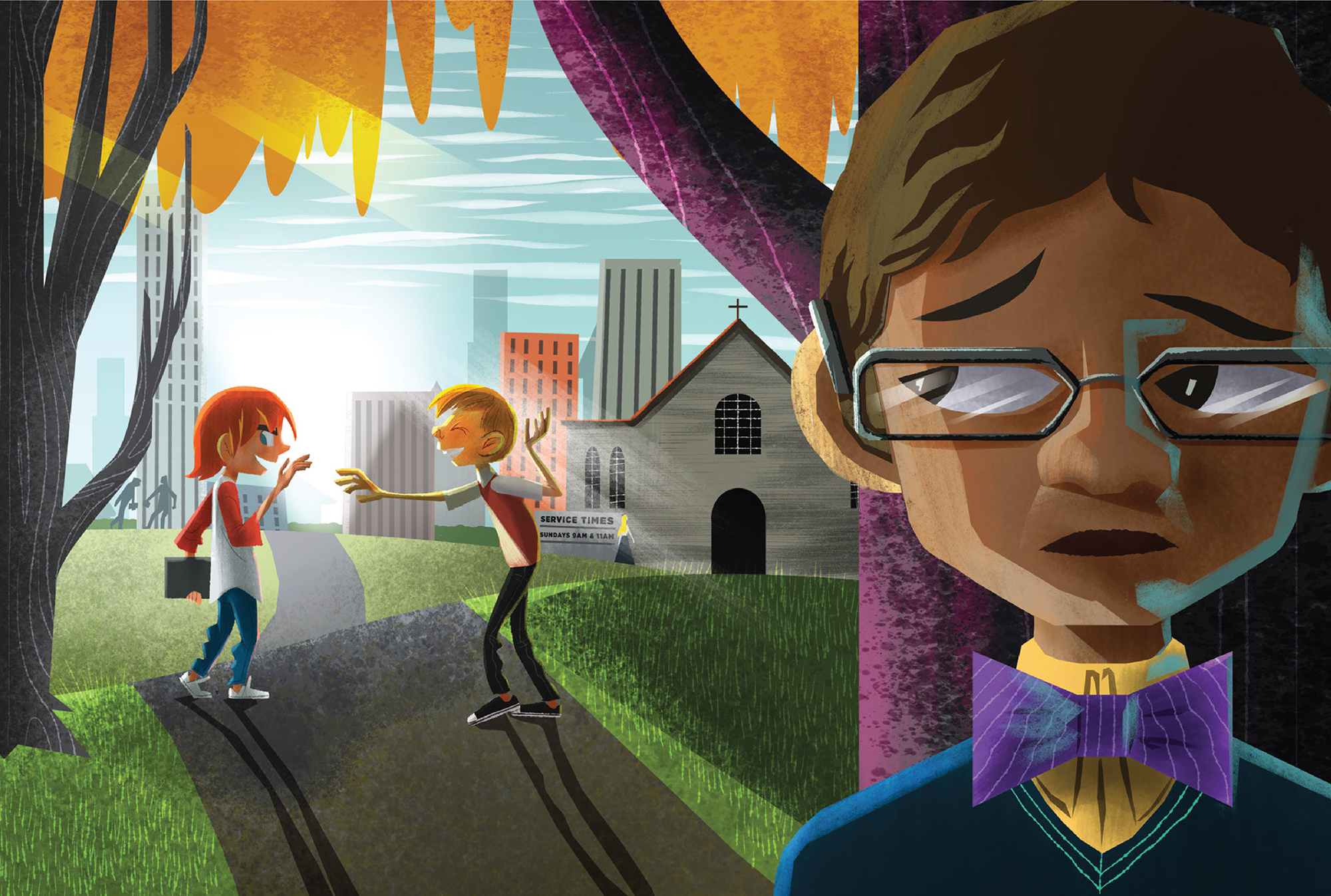 Q: Why do you feel like The Gospel in Color is needed right now in our culture? 
Eleazar: "I'm brown. I'm Dominican. I'm married to an American. My brother's brown. We ourselves have already experienced some of the racism in this country. Two years ago at Canvas Conference Jarvis Williams was speaking. We heard him preach, and my brother and I looked at each other and were like 'We have to partner with this guy'. Most of the resources out there regarding racial reconciliation are academic, very hefty, heavy content, which is great, but then there's a big hole in accessibility. We approached Jarvis literally right after his talk.
As the project evolved we realized that even parents don't know how to go about this. It doesn't make sense to make it a kid's book without really equipping the parents to be able to have that conversation with their kids later. What we ended up doing in the middle of the project was to create a parent's guide and a kid's guide. We learned also while writing that the people who will resonate the most with this will be minorities. We realized that if minorities were the only audience reading this, we were not going to solve anything. We need the majority as well to be able to read this and connect with this. That was our approach: how can we make this the most approachable, accessible as possible. What we hope is that parents would at least have a place to start when it comes to having conversations with their kids about racial reconciliation. If we can influence parents to teach their kids, then our next generation will be more prepared when it comes to talking about this issue. Hopefully allow us to deal with it in a more healthy way moving forward."
If we can influence parents to teach their kids, then our next generation will be more prepared when it comes to talking about this issue.
Q: Do you have a favorite project you've done with Patrol?
Eleazar: "We worked on Golly's Folly, which was our first title, three years before we started Patrol. My wife co-wrote it with me, my brother illustrated it. Golly's Folly was super fun. Had theological depth to it. The book came from my own struggle with the meaning of life and was inspired by Ecclesiastes. But The Gospel In Color was the first time Patrol was able to combine the big guns of illustration and knowledge and academics and making it accessible. Was the first time to find the perfect mix of what the Christian audience wants. The Christian audience wants knowledge, wants to be taught and trained, which doesn't leave a whole lot of room for entertainment or enjoyment or imagination or fiction. As a company, The Gospel In Color will have more impact than a lot of our other resources."
A behind-the-scenes look at the making of Golly's Folly: