Faith In Tension
Sexuality, Community, and the Art of Friendship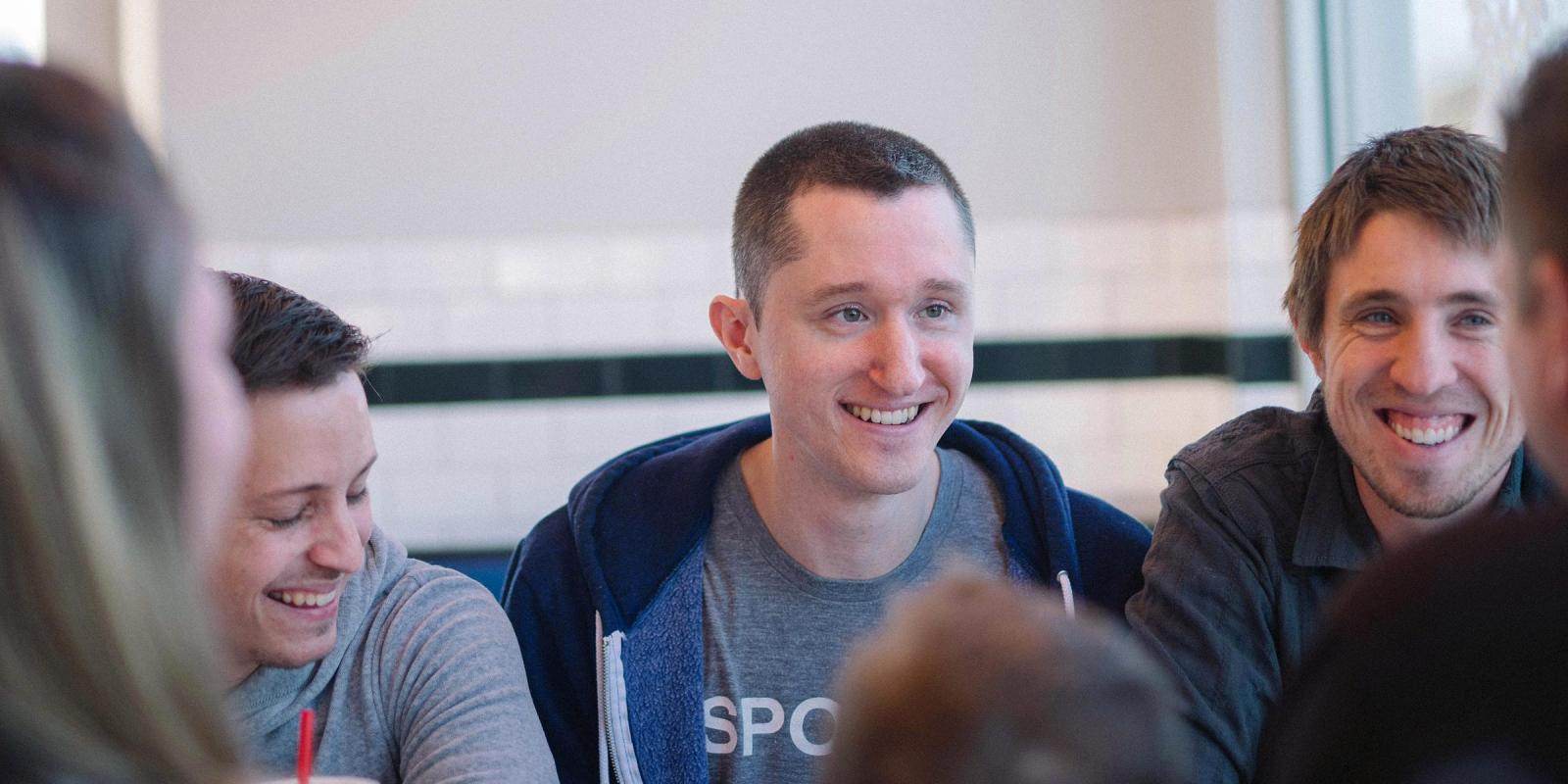 Paul Joy's world was about to come crashing down. He could see nothing on the other side of the conversation to come that this would work out well. His mind raced with an onslaught of questions:
"Would I be accepted?"
"Would I need to find new roommates?"
"Would I need to find a new church?"
With no assurance of a good outcome and completely terrified, Paul said out loud for the first time to another person: "I am attracted to men and have gay feelings."
Steve Rude didn't freak out. He didn't leave. He listened. "He said, 'I don't know much about this, but we'll figure it out together,'" Paul said. "That was enough for me to say, 'Okay, I can breathe. There is some hope in whatever future is ahead.'"
At the time, Paul was attending Des Moines Area Community College (DMACC) where Steve was on staff helping with the college Christian ministry, Campus Fellowship, that Paul was a part of. 
During the annual Faithwalkers Conference his freshman year, God kept bringing sexuality to Paul's mind. He knew if he kept hiding this part of himself, his relationship with God and others would always be hindered. 
"I had hoped my sexuality was just a phase that would go away at some point. Everybody knows you can't be a Christian and be gay. It wasn't talked about. I had no context to relate my experience to," Paul said. "It was really clear in my mind. I need to deal with this if it's ever going to get better or change."
"I had hoped my sexuality was just a phase that would go away at some point. Everybody knows you can't be a Christian and be gay."
Telling Steve was the first step and became the catalyst to helping Paul understand and deal with the effects of hiding for so long. 
"It is hard to understate what that weight coming off felt like. I was known and still cared about fully," Paul said. "That was a big deal. I felt weightless almost the rest of that year because it was so freeing."
One of the Guys
Paul remembers having gay feelings ever since he was young. Raised in the church and a gospel-preaching home, Paul took for granted his faith and the blessings of community. He grew up in a loving family and is the oldest of six—five boys and one girl. Their family was close-knit, and their weekly life and social activities revolved around the church and people. 
"Because it was such a natural thing that my parents were part of, I didn't have to own my faith or think very hard about it," Paul said. "I thought being a Christian looked like saying and doing the right things at certain times. That this is just what you do."
Paul saw relationships the same way. Throughout high school, he was cautious with people—defensive and calculated in how he presented himself and acted. If people really knew him, Paul feared they would think he was a terrible Christian. He felt guilty, alone, and like God was against him.
"I was always looking for affirmation that I was a moral person. That led to a lot of insecurity and self-righteousness. I really wanted to be affirmed by my peers and young men," Paul said. "If I could just play by the rules and get along and be the good kid, then I didn't have to make any waves and everything would be comfortable." 
During Paul's first semester at DMACC, the tension of pretending and hiding was exhausting. The people around him, starting with Steve, had authenticity, closeness, and intentional community. Their brotherly affection softened Paul. 
"So much of my growth as a person has been in the goofiness or the day-to-day interaction of relationships. Especially when other guys accept me as one of the guys. Having those guys treat me like everyone else went a long way," Paul said. 
After opening up to Steve, Paul felt safer. He began bringing some things out in his life he was not willing to face before—anxiety, depression, fear, and anger. 
"All my relationships up to that point were not as genuine as they could have been. Now that I could be comfortable being myself and getting it all out there, God along with His church could do the work of actually bringing the light to those dark places and places full of question marks," Paul said. "All my relationships got better—at least the ones that count did." 
That one conversation in 2007 changed the course of his future. 
"I appreciate Paul's authentic relationship with Christ and his desire to be pleasing to Him in all areas of his life," Steve said. "Paul's been a great friend to me and to many others over the years."
Paul had heard stories of other people who, after they came out, were asked to leave their church or whose parents kicked them out. His worst fears never came true. 
"There's always some amount of tension. There's danger in putting yourself out there, but there's more to gain than by hiding," Paul said. 
God used those relationships to help shape important decisions he's made—moving out of his parents' house to live with guys from Campus Fellowship, pursuing a degree at Grand View University after DMACC, and joining a new church location, Walnut Creek South.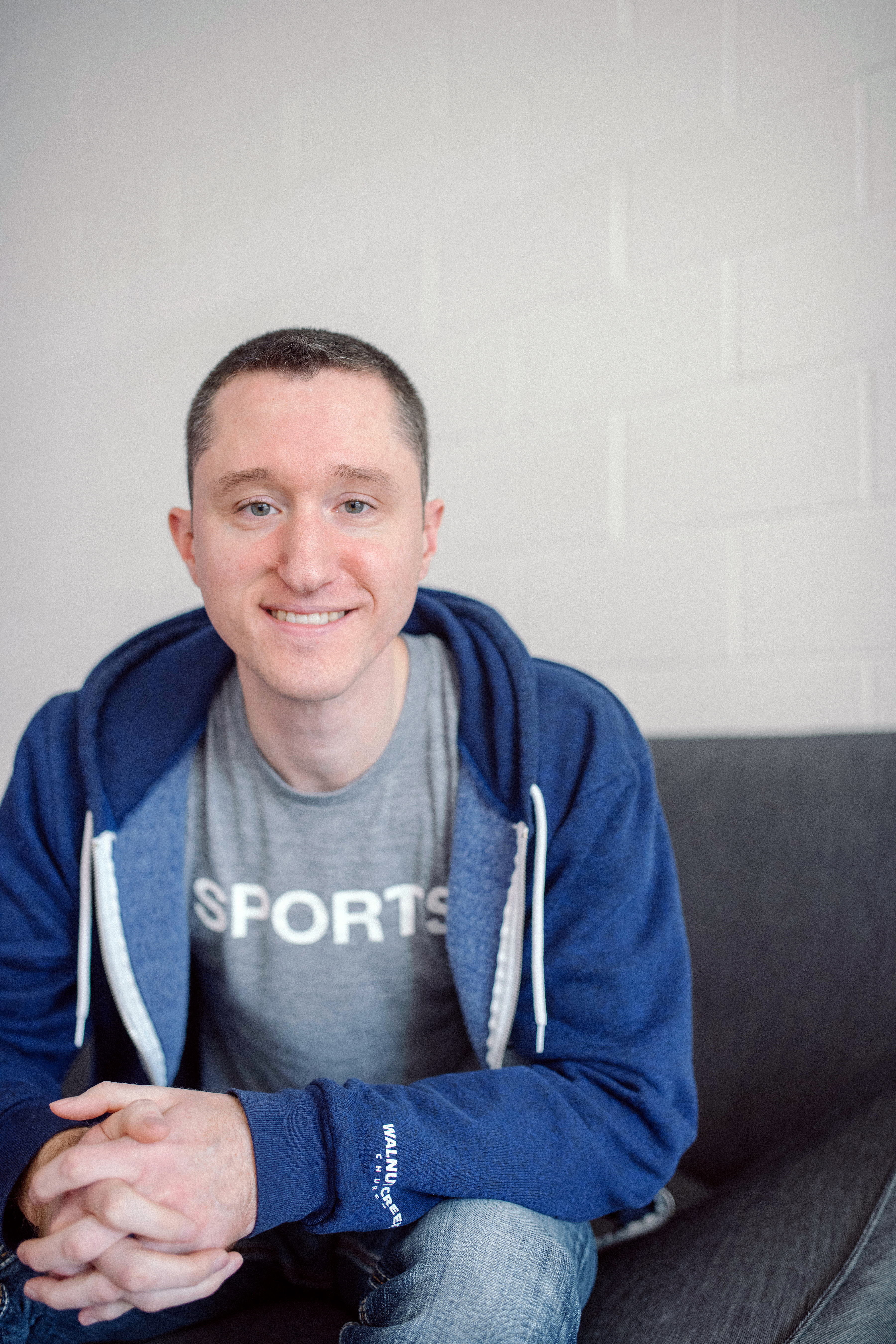 A Tension of Faith
As Paul shared his story with his family and friends, God took him to deeper levels of trust. In August 2015, Paul made a public coming out video on YouTube to share his story. 
For Paul, coming out regarding his sexuality meant being honest with God and with people. He needed to come out to move forward. Paul was also convinced the church needed to begin conversation on sexuality and gender. And he thought that maybe if he opened up, others would feel free to do the same. 
"Sexuality is not something that the church historically has been good at addressing with compassion. What my church has given me is a secure place to belong while I walk this path," Paul said. "I believe more deeply than ever that this is the place I'm supposed to be. People still don't have all the answers. I don't have all the answers."
For so long, Paul thought he would have to choose—between his faith that meant so much to him or his sexuality. As he wrestled with God, he came to the conclusion that if his belief system was worth having, it could stand up to scrutiny and the apparent paradox of his life. 
"I am a Christian and experience gay feelings yet I affirm the Biblical teaching that marriage is between a man and a woman. That is God's design and original intent," Paul said. "I affirm that while living in the tension of being a Christian and having same-sex attraction."
For Paul, that tension practically looks like choosing to be single and celibate. "It's not unreasonable. If God loves me this much, His rules aren't arbitrary," Paul said. "They're meant to give me life. Even if it costs me, ultimately it is reasonable and satisfying."
Paul has chosen to prioritize his faith over his sexual feelings. If Paul uses the term gay, he makes it secondary. His sexuality is not the most important thing about him. 
"I'm a Christian first, a child of God. No qualifier is needed," Paul said. "Identity is really important and that carries a lot of weight with how I pursue growth and how I think about all aspects of life. I want to be careful not to make any other labels more significant than the one of child of God."
"I'm a Christian first, a child of God. No qualifier is needed."
The position Paul holds is not an easy one. He believes Jesus is worth the tension of having gay feelings but not acting on them. 
Paul thinks of Matthew 12 often where Jesus tells his disciples that "...whoever does the will of my Father in heaven is my brother and sister and mother." When Jesus came on the scene, He turned relationships on their head. Paul relies on his untraditional family to help meet his relational needs.
"We rightly champion marriage and family, and that's a good thing. If the church body is working the way it should, then singleness shouldn't feel like a death sentence," Paul said. "I have brothers, sisters, fathers, and mothers that fill all sorts of different relational needs in my life. Is it messy and imperfect? Yes, absolutely. Are there some nights that are really lonely? Yes, sure."
The Advocate
This summer, Paul spoke at Evergreen Church in Lakeville, Minnesota as part of their "Sexual By Design" series. He shared his testimony and talked in depth about his experience as a Christian with gay feelings. Although it was Zac Oler's pregnant wife's birthday, he made the trip with Paul over the weekend. 
"Paul is one of the people I respect the most because his convictions cost him so much," Zac said. "We need Paul because I am nowhere near perfect, and I want my children to see all sorts of people living for Christ so they know how real the gospel is. And at the same time, I think Paul needs us and needs to enjoy holding newborn babies and sitting next to my kids who ask 'Are you my best friend?' 30 times during a 30 minute meal and all the other great blessings about being part of a family."
For Becky, she can't imagine her life without Paul in it because he is such an important part of their family. 
"I've known Paul for most of my life. I was one of two girls and did not have any biological brothers. Paul, ever since I met him, has been like a brother to me," Becky said. "He has always been one of those men who I could, and still do, look to to be God honoring."
Paul says it is friends like Zac and Becky Oler, who lay down their lives for him and include him in their families, that help keep his focus on the eternal instead of on his singleness. The freedom that singleness allows helps him to have a greater of breadth of relationships and depth to them. 
"When we have an accurate picture of the familial aspect of the church and the temporary nature of marriage itself, then it gives us a more sober minded picture because marriage is not everything. Singleness is not everything," Paul said. "When we live in that reality, it is a lot more plausible for someone like me to say, 'I can do this because I have an eternal perspective, and I have a great family around me helping me keep my gaze in that direction.'"
For Paul, his safe place to deal with a lot of questions is the church. He knows that is unique and not the reality for many people. 
At the Faithwalkers Conference in 2016, Paul and his dad, Bob Joy, taught a seminar called, "Homosexuality and the Church," to help believers grow in understanding, integrity, and compassion on the topic. This year, they will be teaching a seminar called, "What Gay People Need From the Church." Paul and Bob will share some of the ways the church can be a place of growth for anyone wrestling through their sexuality— whether a believer or not. 
"The very nature of the gospel is that we are broken in some way. We're not right. We all feel it. The gospel says that's okay. Come to Jesus. He will take care of that," Paul said. "If that's the gospel we believe, we should have a posture of empathy toward whoever comes into our community."
As Paul has shared more publicly about his sexuality, many people both inside and outside the church have shared with him their own coming out stories or asked him questions about his experience being a Christian who is also attracted to men. He wants all people to see that there is a place for them in the church. 
"They want to know how people reacted. Is the church really a safe place? I'm honest. There's still things that are weird. Not everybody gets it," Paul said. "If we're all saved in the same way, and God is a lot bigger than you and me, I feel safe to not have the right answers all the time. There's room to talk and work things out. But it takes a community."
For every time that the world looks attractive, or Paul has an off day or feels disillusioned, he says twice as many times someone calls, texts, or is there for him at just the right time. 
"The Christian life is the best life, but it is also very difficult if you take the Bible seriously. Jesus promises that He'll be there for us, but He's also provided the church. It seems like every time I seek the Lord through challenges, He'll give me peace through communing with Him, but then He'll bring someone around the corner to minister to me, too," Paul said. "It's hand in hand—pursuing a relationship with Jesus and His church. Jesus is the priority. But we so often under utilize what we have in the body."
Beyond the safety and relief of being known, Paul is thankful for a community that can guide him in the direction of Christ, help him grow, and ultimately point him to a bigger picture. 
"If God is not good to me in this area, then where is He good?" Paul said. "If I am true to what God has shown me and how I've seen His goodness in my life, if I'm true to that, then I think He will provide ample opportunities for connections with people." 
"If God is not good to me in this area, then where is He good?"
Paul says it is a testimony to God's work in his life that he even cares about people at all—changing a shy, scared young person into a man who values and cares for people.  
"I'm so thankful God came in human form to experience what it's like. As humans, we want something tangible to grasp onto of the love of God. He does that through relationships in the church," Paul said. "It is ironic that the self-centered introvert that I am has become such an advocate for and champion of Christian community. Because Paul Joy on his own would probably be a hermit."