Not By Sight
Shattering the misconceptions of blindness in America.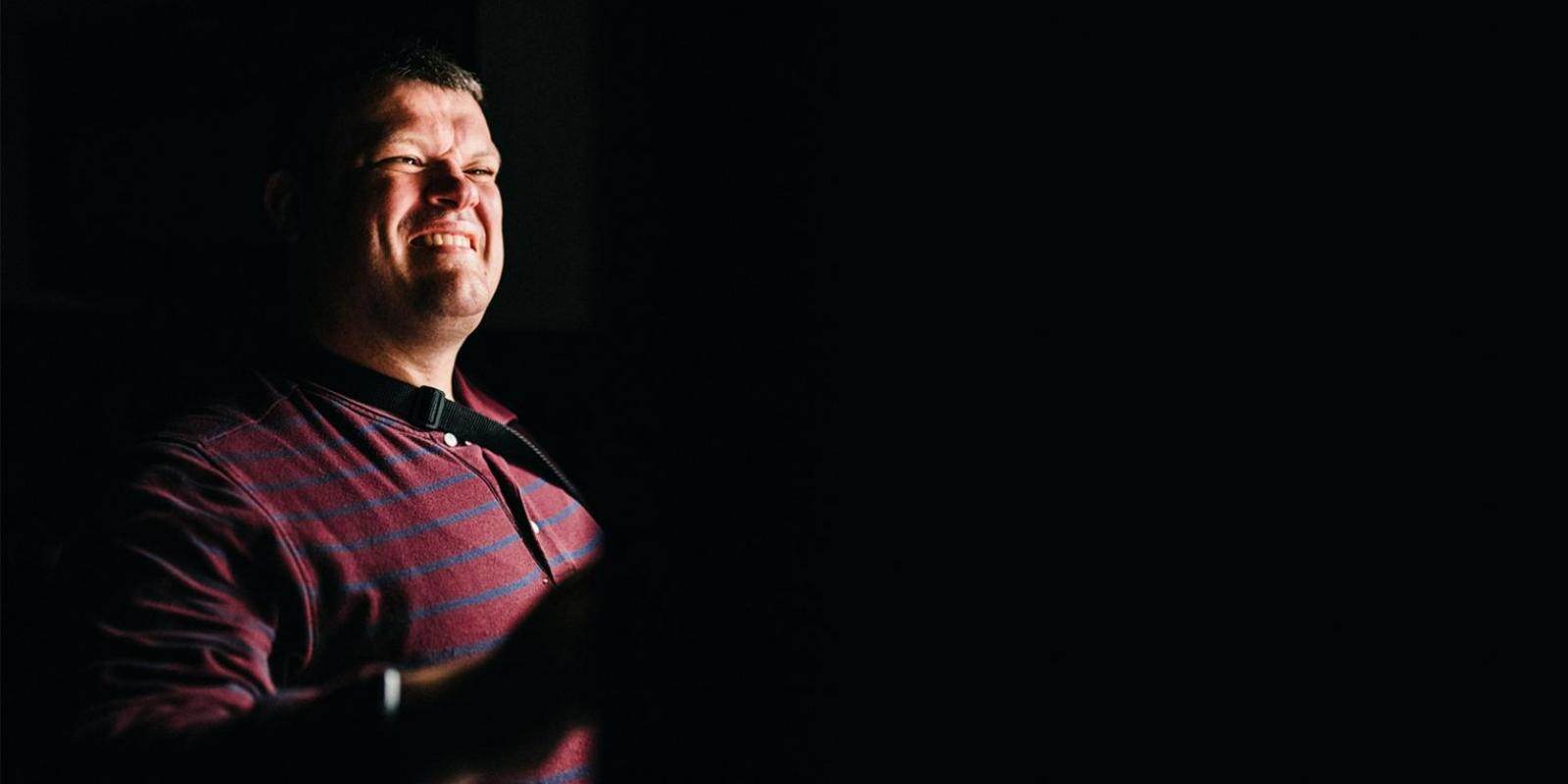 Wes Majerus was born blind. He's never seen the ocean or a bright, blue sky. He's never seen the faces of his parents or four sisters or girlfriend. He's never seen a baseball game or driven a car. 
"People say, 'Don't you wish you could see your family's faces?' I can experience them in other ways just by being around them and by talking to them. I understand people and perceive their feelings through our communication," Wes said.
The optic nerve, a cable–like grouping of nerve fibers, connects and transmits visual information from the eye to the brain, capable of receiving about 125 million photoreceptor cells. The brain interprets those signals and converts the image impulses into the everyday objects we see. 
Wes's eye tissue and cornea are healthy enough to be donated one day. However, when Wes was developing, his optic nerve did not form correctly to the brain. That loss of connection is the reason why when he opens his eyes, he's met with darkness. 
"It's hard to describe something you've never had. I mean there's just nothing," Wes said. 
It's hard to describe something you've never had. I mean there's just nothing. 
According to the National Federation of the Blind, only a small percentage of the estimated 7 million adults in the U.S. identified as blind have no vision whatsoever. A majority of those with visual loss live in a blurry, fuzzy middle ground. 
Wes has total blindness, which is an inability to see anything with either eye. Although in the minority, he has committed his life to helping those with visual loss shatter the misconceptions of blindness.
Tech Advancing Sight 
The American Federation for the Blind reports that over 70 percent of working age adults with significant vision loss are not employed full-time. Wes works as a Rehab Technology Specialist at the Iowa Department for the Blind, daily helping to improve those statistics by training individuals with vision loss to succeed in jobs matching their unique interests, skills, and desires. 
One of the largest misconceptions about people with visual loss is that they cannot work. "There's blind people doing almost everything. I've heard of blind people being funeral directors to musicians to broadcasters," Wes said. "I think that's the biggest take-way. Blind people are a cross section of society. We're human." 
With clients ranging in age from 16 to their mid-70s, Wes and his team seek to equip each individual with the correct technology that will allow them to excel in their work environments. They work with the clients' employer, their families, their schools–whatever steps are necessary–to ensure they have every piece of technology they need and the training to operate them. The Department even has a program to help legally blind entrepreneurs start their own businesses.
"Maybe they want to work in a call center. We go talk with them, see what they want to do, and make sure they're an integral part of the process," Wes said. "I talk to the people that run the call center and ask what kinds of systems they use, ask if we can try it out, and come in with our own hardware and software to make sure everything is efficient as can be." 
Wes travels all over the Des Moines area and the eastern part of Iowa to deliver software, train, and check in on over 30 clients. 
Wes is a self-proclaimed tech nerd. For the last 30 years, he has kept up with the latest technology advances, especially everything Apple. Both his iPad and Apple Watch run an app called Voiceover which can interact via Bluetooth with his Braille Edge device.
Wes daily uses these devices to text friends, to use the YouVersion Bible app, GPS, or Apple Pay, or to read content through an app that takes in PDF files and converts them to braille. 
"This is a cool time to be blind with all of this technology. My favorite part of my job is seeing clients get the concepts. It gives me an excuse to follow one of my hobbies," Wes said. "I'll go to a Best Buy or an Apple store, and say 'Hey you just came out with a new iPhone, can I play with it for a little bit?' Because if one of my clients gets it, I need to know how to use it."
On His Own
The oldest of five, Wes grew up on a rural farm in central Nebraska. Throughout elementary school an aide would come in twice a week to teach him to read braille while everyone else in his class was learning the alphabet. 
Once he reached high school, Wes realized he would need more training to survive life outside his small town. Wes received high level skills training in Denver where he learned how to ride the bus and navigate the train system, how to use a walking cane, and how to maintain an apartment on his own.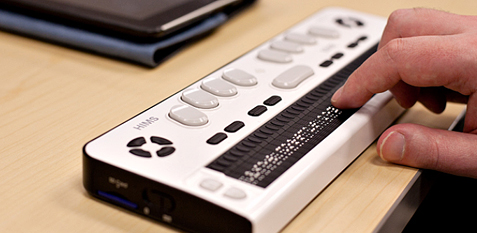 In the early 2000s, Wes enrolled at the University of Nebraska in Lincoln. "I had lived in a dorm where they typically put international students and people with disabilities, and that's not a bad thing in itself, but I decided that I didn't want to conform to their label," Wes said. "I called and said 'Can you put me anywhere else that's close to the center of campus.' They said sure, but it's going to be on the 12th floor." 
Unknown to Wes at the time, many students involved in Campus Crusade for Christ also lived on the 12th floor. One Saturday morning while doing laundry Wes met a student from Cru who invited him to Bible study and asked if he knew God had made him for a reason. Wes had never thought deeply about God before. 
Growing up in a Catholic Church, Wes took religion classes and was confirmed, but he still didn't feel fulfilled. He didn't know what questions to ask or what to look for.
"I didn't know any different. Hearing messages, hearing the praise and worship band singing, and actually hearing teaching from the Bible was really awe inspiring," Wes said. "Campus Crusade helped change my heart, helped me to understand that life wasn't the way I thought it was. It came at a time when I was really ready to hear the message."
After graduating with degrees in management and computer information systems, Wes stayed in Lincoln and worked for the state of Nebraska. While at a work convention, he took a chance to apply for a job in Baltimore. 
Wes moved halfway across the country to a new city with more people within a block radius than in his entire hometown. Although the job had great opportunities, the hectic city and social hardships began to weigh on Wes.
"There were a lot of points where I hit rock bottom in Baltimore. I actually contemplated suicide," Wes said. "God gave me a feeling that I should not do anything rash. I made a New Year's resolution in 2010 to leave Baltimore." 
By November, Wes had secured a job in Denver and worked there for a year before again settling in Lincoln. Before moving back, Wes knew he needed to find a church right away. He decided to visit a church he had been to once in college with a friend.
"That day the pastor was speaking on depression. I suffer from depression occasionally, and it really spoke to me. The authenticity of the message. I decided to start attending that church," Wes said.
Since moving back, the city of Lincoln had made drastic changes to the bus routes that made taking public transportation difficult for the visually impaired. While following a new walking route to work, a 16-year-old girl hit Wes with her car at 10 mph. Wes tore his ACL and had to have surgery.
"At first I didn't know that I had PTSD. Obviously a lot of times when you're blind you have close encounters with cars. Every other time I just picked myself up and moved on, but this time something felt different," Wes said. "I just literally got to a point where I said 'I can't do this anymore.'"
Obviously a lot of times when you're blind you have close encounters with cars. Every other time I just picked myself up and moved on, but this time something felt different.
Again, God provided Wes with a new opportunity, this time in Iowa. Wes had heard that Des Moines was accessible for a Midwestern city of its size. He knew his next right decision was to move to Iowa. 
"A lot of times if a blind person has trouble in a job, the odds of being able to walk down the street and say, 'Will you hire me?' are pretty steep. You're going to end up going somewhere else," Wes said. 
Making A Home
When Wes arrived in July 2017, he knew no one in Des Moines. Wes's girlfriend Allison, who he met ironically on a blind date in Lincoln two years prior, attended high school in North Dakota with Matt Crummy, a creative director at Walnut Creek Church. Allison connected the two, and Wes joined Matt's Community Group at the Downtown location. 
"Some churches see you as their charity case. Some churches are more of a hybrid. Some churches ignore you. Some people see you as flawed," Wes said. "God provided in giving me this church. This has been good not only for the messages and the things the church offers, but I'm really glad to have my Community Group."
After church on Saturday nights Wes will catch a ride with people in his Community Group to dinner and pull out his GPS to serve as co-pilot and navigator. People's willingness to ask questions and learn and not just assume things about his blindness has made Wes feel welcome and at home.
During the first few months in Des Moines, Wes participated in cane travel training. The experience gave him confidence he hadn't had since before the accident. Before moving, Wes was working with a counselor to help him with his PTSD. There had been times when he would feel ready to go do something, and then would get himself in a jam and need Allison to come rescue him. 
This summer Wes was out walking and without thinking, acted assertively as a pedestrian. He felt like himself again. Today Wes walks to work everyday—a mile from his apartment near Principle Park to the Department of the Blind office on 4th Street. 
In 1990, when Was was 10, President George H.W. Bush signed the Americans With Disabilities Act. The ADA, known as the "Emancipation Proclamation for people with disabilities," changed the landscape of cities by requiring buildings, public transportation, and workplaces to accommodate for people with disabilities with access to resources like ramps, handicapped parking spaces, closed captioning, braille signage, and service animals. 
For those with disabilities, a city's design directly affects their quality of life. For example, Lincoln operates like a small town—limited routes, no buses on Sundays or after 7 p.m. With no expressways, all traffic is on street level. Wes has found Des Moines to be much more pedestrian friendly because I-235 contains most of the fast traffic. The streets feel safer here, with curbs cut out and crosswalks with sound effects. 
Using a tap technique, Wes navigates the Des Moines sidewalks through a long, white cane with a metal tip, placing the cane in front of his feet as he goes from block to block. 
"As you tap, the metal tip creates sound that you hear off of the surfaces around you. Areas have a feel. There are sounds, ways traffic moves, the sidewalk has certain texture," Wes said. "You start to travel on autopilot, day dreaming like everyone else. What am I going to have for dinner? Why didn't my computer work the way I wanted it to today? The same stuff you'd probably think about as you're driving home. I'm paying attention, but it's not in the forefront of my brain."
According to a recent study from researchers at the Wilmer Eye Institute at Johns Hopkins University School of Medicine, most Americans fear loss of eyesight as the worst ailment that could happen to them, surpassing loss of a limb, memory, hearing or speech, or having H.I.V./AIDS. 
"I can remember things that I was like 'Wow I wish I could see that.' Like the eclipse that happened last year, or the immensity of a tall building or architecture. Because I have no other way to experience them. People describe, it's not the same, but it works," Wes said. 
Wes asked God for guidance with each job change. He asked God for comfort in his 20s when it seemed like everyone around him was getting married but him. He asks God daily for grace and help. But Wes has never asked God to heal his sight. 
"A lot of times people say, 'Don't you want your sight back?' I've never asked God why He made me blind. I've never asked God to deliver me from it. I would have to relearn everything. My brain's already mapped itself," Wes said. "There's obviously a reason God has me as a blind guy. However He wants to use it, I'm along for the ride. I've never thought about going back. If you've never had something, it is hard to miss it."