Q&A with The August Guns
Using music to tell a story rarely heard in the Des Moines rock scene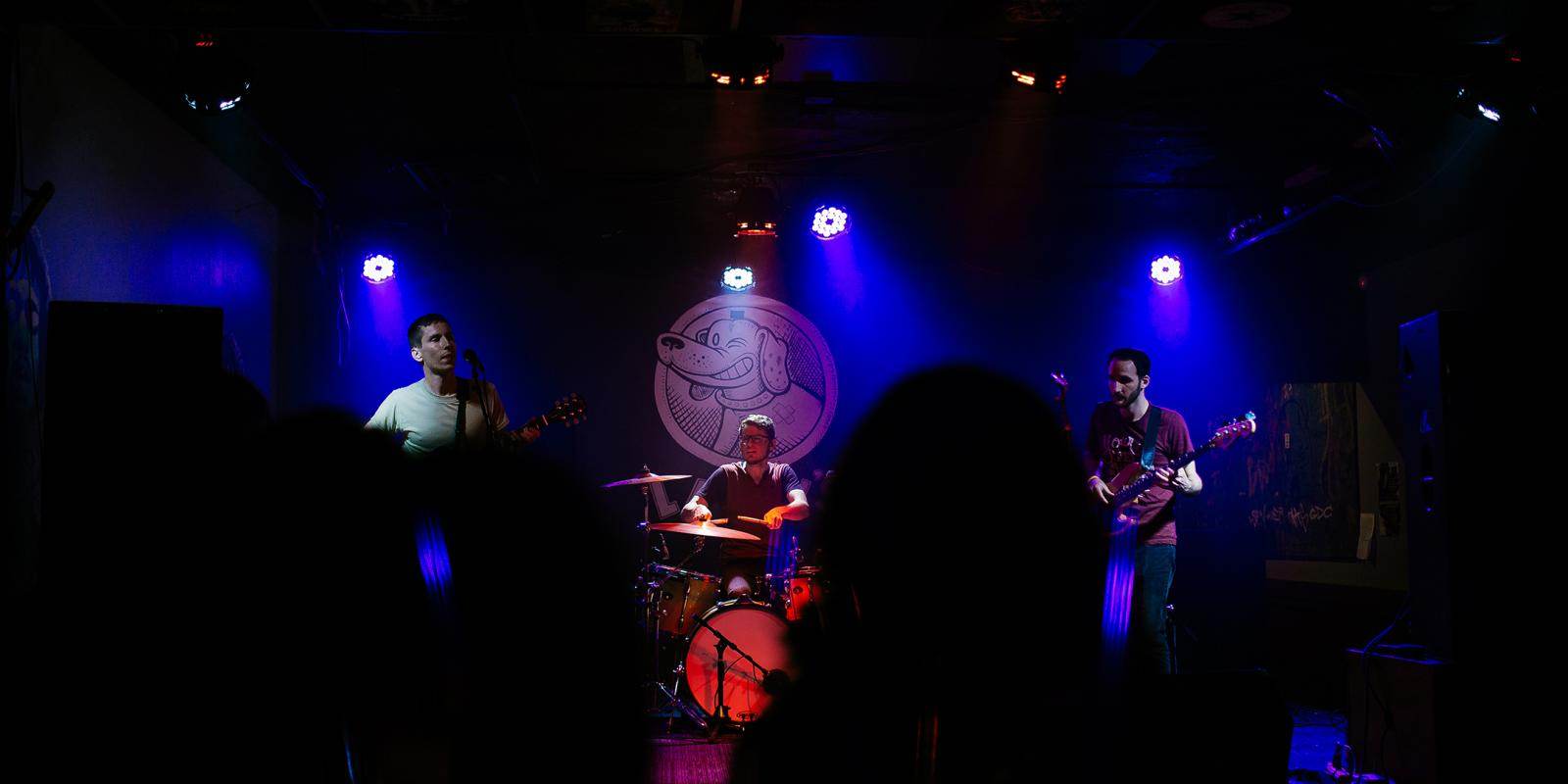 The August Guns are using their music to tell a story rarely heard in the Des Moines rock scene—the transformative power of Christ in their lives. The band's foundation began when Korey Wilson and Micah Smith first met to write a song for a mutual friend's wedding. After becoming friends themselves and both moving to Des Moines, they began attending Walnut Creek Church, committed to following Christ, and started dreaming about music.
The band recorded their first EP Siloam in 2015 while also serving together in the worship band at church. Recently they added Royce Alaniz as their drummer and third member. The band is planning to release an Indiegogo campaign next year to fund their second EP Light for Dark Places.
Q: How did The August Guns get started?
Micah: "The idea for this band actually started way back in 2012 for me. I was reading a history book called The Guns of August, which is about World War I. All these nations were really tense and something was going to blow up. I kind of felt like my life was very tense and something had to happen. I was neck-deep in sin and death so I made some radical moves. I decided to quit my old band. I moved down to Des Moines, and my life fell apart. But then Jesus entered the picture."
Q: What was your mission or purpose behind forming the band? Has it changed at all?
Micah: "Once Christ entered the picture, my whole world got flipped upside down. I didn't know what to do with this desire to play music. I have all this experience but was that just a waste? Do I need to become somebody else in order to follow Christ? The answer is kind of yes and no. There is the command to deny yourself, pick up your cross, and walk. But on the other hand, you have Ephesians 2:10 talking about how you are God's workmanship. The Greek word used in that verse is the word for poetry, or song, and I love that. Each one of us is made in a unique way, with unique talents and gifts."
Korey: "It's not the perspective of, 'We're going to create music to reach the masses and be rock stars.' Everything is a gift from God, and music is one of those gifts. Music is just another means to glorify Him."
Micah: "The more we play, the more it settles onto my heart how deeply the world needs Christ and needs real hope. Not even just for the people who don't know Him but for believers who are struggling and need to be encouraged. My favorite band ever is Thrice because they not only have really amazing music, but they actually have their words speak life. It has substance to it, and it's Scriptural, too. They were preaching to me before I knew it. They were speaking the Word of God to me when I was at such an angry, hard, rebellious place. So I wanted to make good music that had good truth to it."
Q: How would you describe your sound?
Micah: "The first record was experimental because it's all these embryonic ideas where you take these baby songs and throw it all out there to try and make something cool. But it's immature in a way. You're just like, 'Okay, this is what we want to sound like.' But you want to do it better, smarter, more effectively. I'm really jacked about what we have for this upcoming record. We brought in a producer this time—actually, he kind of fell out of the sky like manna from heaven—and he's been amazing. He's so gracious to us. He's helped shape our sound. He's helped us find out who we are and how we're comfortable on stage. How we can be most effective for the gospel and who God made us to be."
Q: How do you keep perspective?
Micah: "Music is a terrible god. When you make anything an idol, you end up making it a demon. You're serving it and everything is wonderful, but when it doesn't go well, it terrorizes you. You become like what you worship, and when you worship a thing that has no life in it, you end up having no life in yourself. I was miserable putting music above all things." 
Korey: "Being faithful where we're at, where God has us, and meeting people where they're at. Music has a way of getting right to the point, right to the core, when you feel it. We've seen that open up some really good conversations, and God's been faithful to bring about that fruitfulness."
"Music is a terrible god. When you make anything an idol, you end up making it a demon."
Q: You talked about loving people and meeting them where they're at. Is there a way that you can show Christ's love on stage?
Micah: "Titus 3:3 talks about God's kindness—the word kindness has this connotation of usefulness. That's been one way to show Christ in the live show. Just being able to be useful to people, whether it's helping other bands load in, or giving ear plugs to people because we're loud. Just really promoting the show so the venue does well. God is useful to us when we have nothing to give to Him. To be useful to someone when they can give you nothing in return is such a beautiful reflection of that. The more we play, the more I'm yearning to bring the gospel to people and really be useful to them in word and deed."
Korey: "God has opened up a lot of opportunities and given them to us. There have been some shows where maybe things didn't go well, but people came up and heard a certain lyric."
Q: What's next for The August Guns? 
Micah: "We have a few more shows coming up this year, and then next year, we launch our Indiegogo campaign to raise the money to fund our second EP called Light for Dark Places."
Royce: "We'll be announcing the Indiegogo campaign come December. We'll hopefully at some point have a promo video for it. It'd be great if by the end of first quarter next year we had the album."
Micah: "Honestly, the best things that have come out have not been the result of our master planning. It has been prayer, and God is just super faithful, just so gracious and able to deliver beyond what we can ask or imagine." 
Royce: "I think what I don't want, and I think these guys would agree, is to be so concerned with the next step and missing stuff now, that we're overlooking people. Faithful with where we're at has been the theme. Contentment with the possibility that we could not grow much. We may not gain a huge following right after we release our album, it might not take off like we thought. It could be a much slower process, and if we were to have a larger sphere of influence, that could be a long way down the road. We don't worry ourselves with that and stay open to the possibility that we might be doing small local shows for a long time."