Raising A New Generation
Teenage disciples are bringing light to the darkness around them.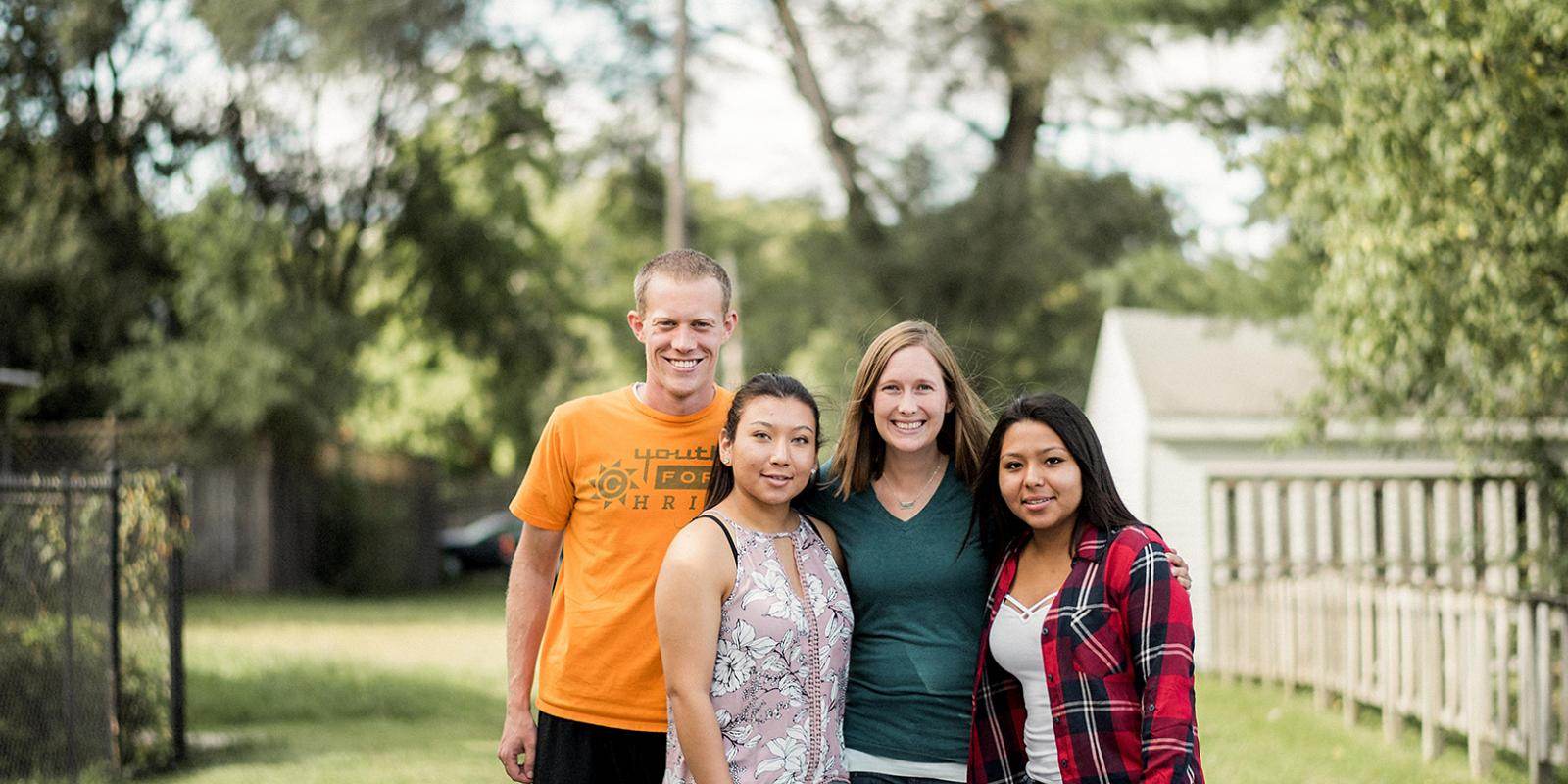 A few weeks into the new school year, Kristi Wicks went on a prayer walk around their neighborhood with her son Caleb. Although Kristi and the Youth For Christ leaders had worked hard to get ready for club that year, no high school students showed up. The Youth For Christ team turned to God for help and began to pray. 
As she walked, Kristi prayed to meet kids in the neighborhood she could invite to City Life. She prayed for soft hearts and for lives to be changed. That day God answered her prayer when she ran into an old friend, Angie Leiva. 
Kristi and Angie had first met when Angie was in fourth grade. Angie's older brother played Central City Soccer and through the league, their family got to know Kristi well. Throughout elementary school, Kristi brought Angie and her younger sister Marilin to the Awana program at Walnut Creek Windsor Heights. The girls would come over to make lasagna at Kristi's house, and they joined Central City Soccer teams. As Angie got older, she became less interested in the Bible and "church" things. Kristi saw the girls less frequently. A few years had passed and now Angie was a student at North High School. 
Kristi knew it wasn't a coincidence when she ran into Angie and her cousin that day on her walk. She invited the girls to come to Bible study. Angie came and brought her sister Marilin, too. God was answering prayers. He was moving through the neighborhood. 
Moving In
Kristi joined the Youth For Christ staff in 2006, helping facilitate small groups at Hoover High School and Roosevelt High School. Kristi quickly saw that these kids needed more than just a weekly Bible study lesson. 
During this time Jason Wicks worked as a substitute teacher in the Des Moines school district. After witnessing the needs and brokenness of his students, Jason also felt led to go on staff with Youth For Christ in 2008. After Jason and Kristi got married, they moved into the neighborhood. 
"Jason and I moved into the neighborhood with the hopes of having a presence and not just being white, Christian people who come do our ministry and leave but really wanting to be part of the community," Kristi said. 
City Life is a neighborhood-based ministry of Youth For Christ with the goal of transforming the lives of urban youth, their families, and the communities they live in. Rather than creating clubs based on school district lines, City Life takes a more holistic approach by working to empower youth and join with like-minded partners to change neighborhoods together. That means first meeting kids' basic needs.
"These kids have so many hurdles in life beyond just the spiritual. Their friends, parents, school, a lack of direction. How do they even begin to think about the Gospel when they don't have food to eat?" Jason said. 
Before moving, the Wicks explored their options and researched to define a neighborhood to focus on. The Lord led them to the neighborhood area marked by 2nd Avenue to Martin Luther King Jr. Parkway, and University Avenue to Hickman Road. They rented a duplex near Evelyn Davis Park, where their Community Group played soccer with kids on Friday evenings. 
"Kids from an urban setting often need more than just, 'Here's the Gospel.' They need other help whether it's education or basic life skills," Kristi said. 
After praying and waiting for a more permanent building, the Wicks found a large multi-functional house in their neighborhood. Youth For Christ purchased the building on 10th Avenue in December 2015. The Wicks moved in this spring with their two young boys: Caleb, 4 years old, and Andrew, two-and-a-half years old. The lower level of the house has a large kitchen and multiple rooms that can be used for ministry. Their front yard looks out onto the Grubb YMCA, a large playground, and basketball courts. 
"We want to see a neighborhood reached and changed from within," Kristi said. Since April, the house has become a neighborhood hub for kids whether it's for pancakes on Sunday mornings before church, middle school club, or a place of refuge from their home lives. For kids like Angie and Marilin, the Wicks' house is a safe place to talk about God with their peers and trusted adults. They know they aren't alone. 
"We want to see a neighborhood reached and changed from within."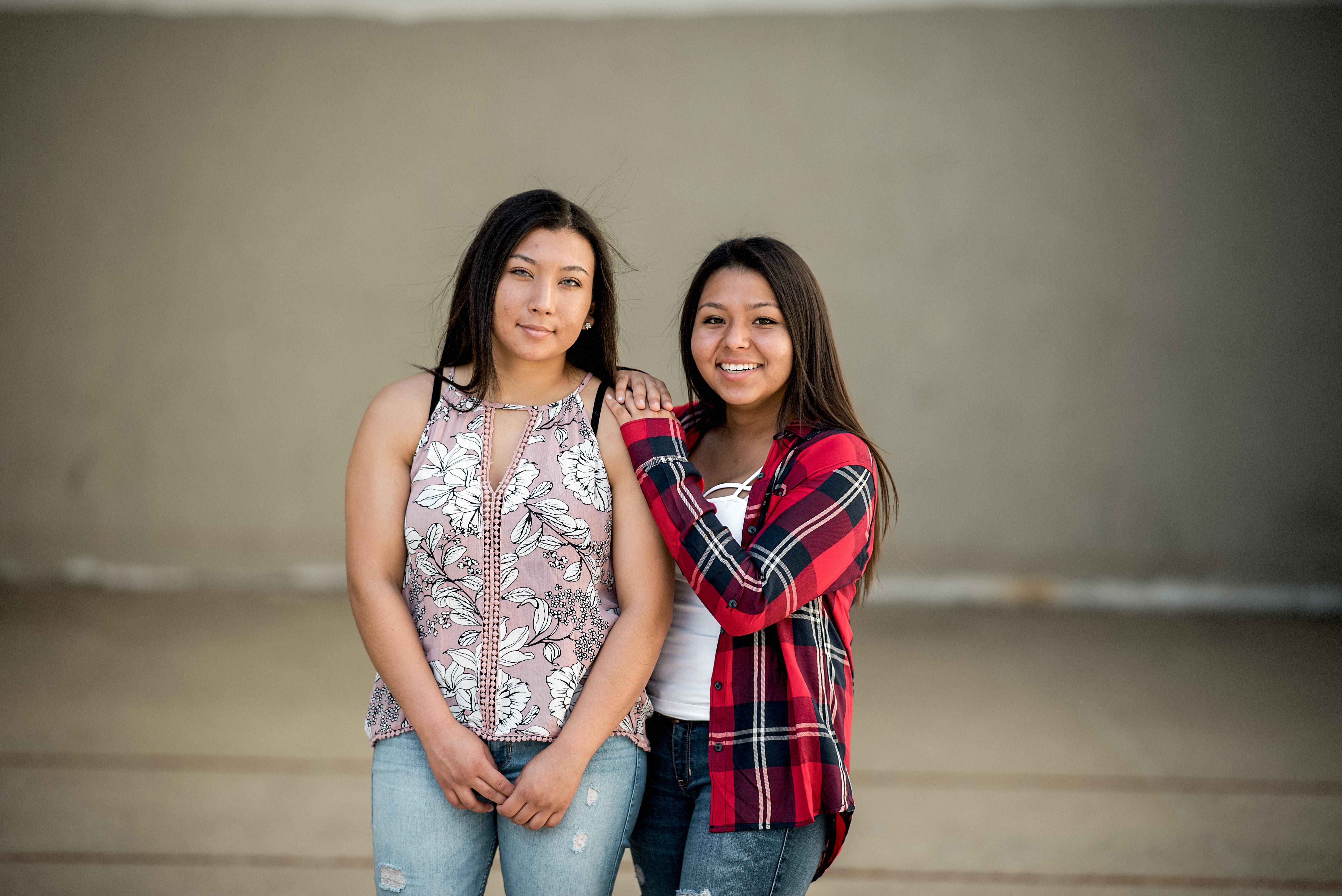 Letting Go
When she reconnected with Kristi, Angie was content being independent, focusing her time on friends and work. "I was kind of falling off. I wasn't really paying attention to God. I wasn't focusing on Him, reading my Bible, or going to Bible study," Angie said.
Although Angie, 18, and Marilin, 15, had heard the Gospel through Awana and Bible study, they didn't feel ready to surrender their lives to Christ.
"I felt like I was bad. That kept me away. I didn't know if I should become a Christian. Thought people would think I was a hypocrite," Angie said. "There was too much to change. Didn't know if I could do it."
"I felt like I was bad. That kept me away. I didn't know if I should become a Christian. Thought people would think I was a hypocrite."
Angie and Marilin attended Youth For Christ camp in the summer of 2015. Youth For Christ hosts camps at multiple sites throughout the country with a focus on evangelism. God used the sisters' week at camp to help them work through their fears and doubts. 
"I felt like I was too young. I just wanted to understand more before I said yes. I wasn't ready to make a decision," Marilin said. "We learned so much at camp. We had no reason not to become Christians." 
The sisters met kids from around the country who had stories just like them. Their camp small group felt like family, making them feel comforable sharing openly about their lives. Both Angie and Marilin gave their lives to Christ that week.
"I wish there were more kids there so they could experience what we got to experience," Angie said.
Throughout the week, leaders shared their testimonies and unpacked the Gospel slowly and intentionally. Marilin said she was surprised by their messy stories. 
Some leaders had parents in jail or addicted to drugs. Some leaders had parents who were never married or people close to them die. Some leaders struggled with depression and had sexual relationships before knowing Jesus. Hearing how these leaders had trusted Jesus despite their crazy lives helped Angie and Marilin see God was bigger than their problems, too. 
"For kids in this neighborhood, to get them out of their home environment for that many hours in a row, is a big game changer. Where they're not responsible for their younger siblings and don't have to be surrounded by those influences," Kristi said. "They get to have fun. Kids around here don't get to experience fun like other kids do." 
Since last summer Angie has seen God's faithfulness in her favorite Bible verse, Matthew 19:26: "With God all things are possible." Her relationship with Marilin has grown as they talk about faith, love their family, and learn how to follow Jesus together. "I didn't pay attention to her before. I was always with my friends," Angie said. "Now I'm not alone. I have someone with me."
Marilin knew she had to let some friends go who weren't a good influence. God helped her to think positively instead of taking out her anger on other people. In August she began tenth grade at North High School. Although Angie graduated from North in May, Marilin is encouraged when she sees other kids from City Life in the hallways at school. Together they remind each other to live for God and love others even when it's hard.  
Angie began classes at Des Moines Area Community College this fall. She is in a two-year program to become an interpreter in the medical healthcare field. Angie's classes will be at DMACC Urban campus, only a few blocks from her house and the Wicks' house. While attending school, Angie is going to live at home and join the Wicks' young adult Community Group. She wants to give back and help out with City Life and volunteer at Youth For Christ camp next summer, too.
"When I started going to church and praying more, things got better. I feel like God hears my prayers," Angie said. "He's helped me to not be afraid to do things."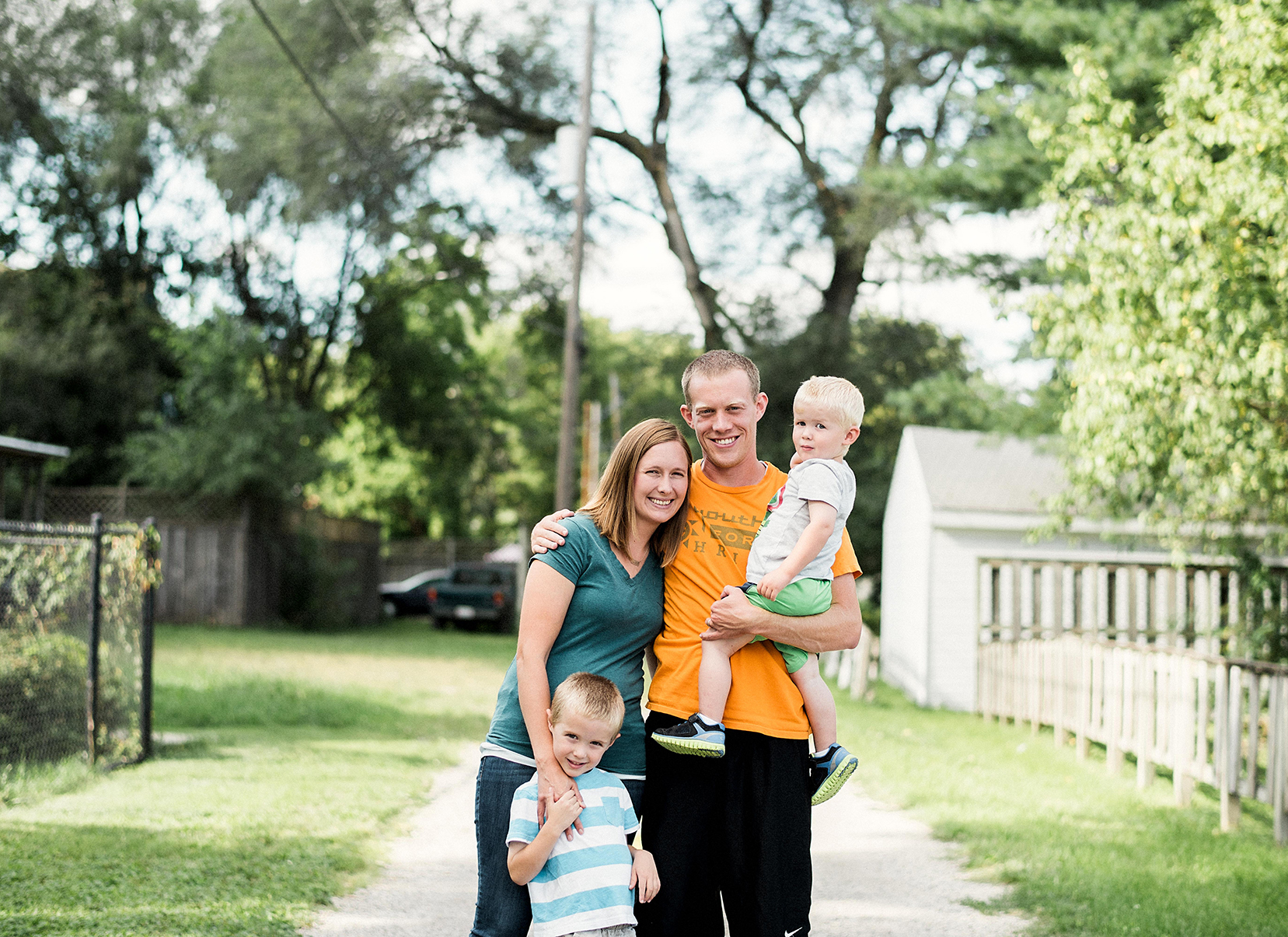 Raising Up Leaders
Part of the City Life model is to raise up indigenous leaders from within the community to stay in their communities, give back, and make a difference. As Youth For Christ has seen, these leaders can build credibility in the community much better than anyone from outside can. 
Testimonies of changed lives like Angie and Marilin give Jason and Kristi hope that their neighborhood could change. And God is writing more testimonies. Earlier this summer Jason helped move a student from City Life into his dorm at Moody Bible Institute in Chicago.   
"An obstacle we're working to overcome is that they do not see others within the neighborhood with changed lives and so it's like, 'Well nobody around here is living for Jesus,'" Kristi said. "We're starting to see kids get saved, and as that happens, they are so much more instrumental in sharing the Gospel with their family, their peers, and their friends than we are."
"We're starting to see kids get saved, and as that happens, they are so much more instrumental in sharing the Gospel with their family, their peers, and their friends than we are."
Their City Life students come from many Des Moines area high schools. For Jason, weekly City Life is a time to build trust with the kids. Breakthroughs happen in one-on-one conversations. That's when they open up about their real lives: losing their virginity, trying drugs, or struggling with their families. 
"Here comes this person who doesn't know how they grew up, doesn't understand how they've lived. I don't know if I even know how to communicate the Gospel in their context," Jason said. "A lot of barriers between me and them, and between them even beginning to consider what the Lord wants." 
In the last ten years since going on staff with Youth For Christ, Kristi has seen students come to know Jesus and start living differently. Some of those students are grown up and have kids now. Some have walked away from the Lord. The Wicks are praying that the City Life students they know now will grow up to be the indigenous leaders their community needs. "As you individually get to know each kid and you hear their story, you want to help them know how Christ can be at work in their life. Their stories draw you in," Kristi said. 
"As you individually get to know each kid and you hear their story, you want to help them know how Christ can be at work in their life."
Since moving to 10th Street in April, the Wicks are working to grow closer partnerships with like-minded organizations in the neighborhood including the Grubb YMCA and local churches. For their neighborhood to change, it will take everyone. Even their young boys, Caleb and Andrew, are learning the importance of service and reaching others around them. 
"As you engage with teens, asking questions is a pretty crucial part of what you do," Kristi said. "It's neat to see Caleb ask questions about others. He notices things." 
When gunshots are heard, Caleb and Andrew think they are fireworks. If kids are swearing on the playground, Jason takes the boys back home. Caleb asks where kids' moms are when he sees them walking around by themselves. When they moved into the neighborhood, the Wicks trusted God had a plan for their lives and that He would provide for their family. 
As this new school year begins, Jason and Kristi invite people to pray with them for more students to come to know Jesus. The Gospel changes everything. These kids and their neighborhood need to hear that good news. 
"Bringing hope and healing motivates you," Jason said. "The potential to see a life changed from heading down this path of destruction. Bringing light to the darkness in a very needy place."